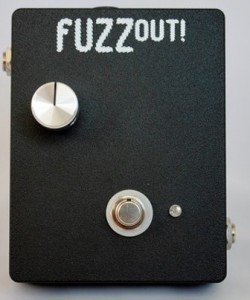 Ohm Made Electronics builds guitar effects out of Leavenworth, Washington. The company consist of the duo Tyler and Danielle who have created a new Fuzz that they would like to release to the world. They personally invested $10,000 of their own capital and they are looking for another $9,500 via Kickstarter to put out 100 limited edition Fuzz Out Pedals. Here's what they have to say about their effect pedal pursuit:
Each pedal is hand-wired on turret boards that we custom make here in our shop in Leavenworth, Washington.  That means there are no PCB's in the FUZZ OUT!
There will only be 3000 FUZZ OUT! pedals built each year.
90% of the parts that make up the FUZZ OUT! are made in Canada, Mexico and the United States.  We are trying to reduce the impact long-distance shipping has by sourcing our materials locally.
Parts were selected based on tone and durability.  We prescribe to the theory that quality parts make a quality product, and we take pride in the products we make for you to enjoy.  A lot of time was spent researching component values and construction to produce the highest quality product.
The FUZZ OUT! circuit is influenced from two vintage plug in units; A British distortion circuit and an American fuzz circuit combined to bring you a uniquely compressed fuzz tone that has a rare vintage flavor to it.
Parts will be ordered the day the goal is met, allowing ample time for manufacturing and holiday shipments worldwide.
Help support local small businesses and American made goods this holiday and get Fuzzed out with Ohm Made Electronics!
As with most Kickstarter campaigns, there are a slew of sponsorship levels, but the one you want to know about is the $175 level that gets you one of the pedals delivered to your home. I'm always happy to see new folks taking up the mantle of developer/builder. Only time will tell if their box has the goods to make it onto center stage, but if you want to help out – now is the time. Here's their video that gives you more information about what they are trying to accomplish. Here is their Kickstarter Page
Don't Forget That We Are Giving Away A SunSine Audio Limited Edition Gold Harmonic Decoder!