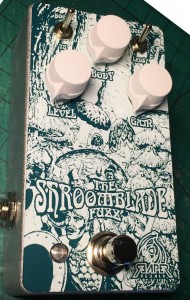 Tooling around on Instagram today and ran across a pedal with some extreme graphics on the outside. The pedal was the Shroomblade Fuzz from a builder called Reaper Pedals. The name and the graphics on this pedal had me reminiscing about my youthful obsession with Dungeon and Dragons. You see there's another company out there that goes by the name of Reaper, only they make miniatures for RPG/tabletop gaming. And the graphic on the outside of Shroomblade is very much in line with the graphics from the old Monster Manual and Players Handbook. Funny how nostalgia can stop you dead in your tracks and make you pay attention.
A little research turns up that these folks are indeed their own brand – building effects out of Sweden. A little more poking around and I immediately was caught up in what they are doing. With pedals that have names like Doomblade (Fuzz), Burial Boost and Pandemonium it's not hard to understand where their influences come from. These folks want to create pedals that give guitarists the ability to leave a trail of destruction among their crowds. For Reaper Pedals -face melting Rock and Roll is not a cross-class skill (sorry, couldn't resist).
One thing I like to see when I crack open the back of a pedal is how artful the builder is about their effect. Board layout and well designed gut schematics show a deeper understanding and appreciation for the circuit that's being tackled. It isn't just a pursuit for the end goal. A well laid out, color-coded board is a type of shrine to the practice of effects building. In the case of Reaper, theirs looks more like a cross between art and a nuclear reactor. Check this out.
But, back to the Shroomblade Fuzz. Here is what Reaper has to say
Let me introduce you to the new production model, The Shroomblade Fuzz. This is my take on the classic IC/Opamp fuzz released in 77, maybe most known for being used on the Siamese Dream album. My version has an improved gain knob that responds better then the original, tons of mids, switch for three modes including 77 which is the brightest setting, a 78 mode for rolling some highs off and a doom mode for even darker sounds. Switch to select between silicon diodes and led clipping. As you may notice my version lacks the conventional tone control which have been replaced by a "Body" control going from thin and bright sounds to full blown low end madness while maintaining clarity. Release was supossed to happen today but I will have to delay it a few more days to make sure everything is ready to go. Let the shroom invasion begin!
Let us know if you have any Reaper Pedals by leaving a review at Pedal Finder. Especially let us know if you get close to this new Shroomblade! And, don't forget that we have a giveaway going on right now for a Sunsine Audio Limited Edition Gold Harmonic Decoder.
Here's a demo of the Doomblade Fuzz!