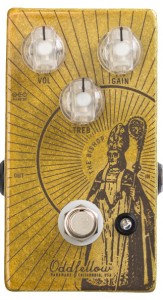 There are a number of ways you can determine if a pedal company is putting out effects worth using. You can visit review sites, like Pedal Finder, and see what musicians in your genre are saying about the builder's pedals, you can play the pedal for yourself and see what you think first hand or you can visit the builder's website. If you take this last action and notice that all of their pedals are out of stock, then that's probably a sign that people are into the tones they are dishing out.
Such is the case with Oddfellow FX out of California. Looking at their products page reveals a modest line of pedals, all of which are currently out of stock. Something tells me this isn't because the folks in the shop are taking the holidays off, but instead it has to do with their history of creating hi-quality, boutique effects that guitarists have come to love.
Their latest venture into the world of effects is the Bishop, which just so happens to be Oddfellow's first single-stage overdrive. They have this to say about it:
[The Bishop] serves as a great do-it-all gain box. Anything from a light "amp-pushing" boost to full-on, chunky drive can come out of this device. The guys at Oddfellow Effects, along with Scotty Smith from ProAnalog devices have been collaborating on this one for the better part of the year, going back and forth on different designs to bring one of the best sounding and feeling dirt pedals to the market. To top it off, The Bishop features an internal switch that allows the user to choose between "true bypass" or "buffered bypass" switching, as well as the ability to run on different voltages, allowing more tonal options. But you can never go wrong with the standard 9 volt setup.
And the best part, this all-in-one distortion offers players high quality sound and superior dynamics at a price point that is more affordable to players all over the world, with an online price of $165. That's a lot of variety and control at a little over a buck-fifty.
Even though the site says out of stock, if you're interested, you should get in contact with OFX through their website or their FB page to learn more and get in on the next shipment. The Bishop is sure to be another winner from this builder.
Demo below. As always, leave a review at PF if you get close to this pedal.