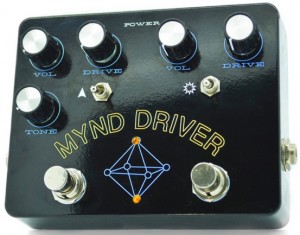 Somewhere out in Brisbane Australia is a very, very busy man named Nic Belor. Nic is the owner/operator of Midnight Amplification Devices – a company that creates custom effects and amplifiers. Unlike many builders who chase a pedal down and then knock out a bunch to push out to market, MAD makes all devices to order in a small batch format.  So, depending on the current build list he has in front of him, it may take awhile before the pedal ships. But, Nic's website does ensure that all orders will be completed within a 2-4 week time frame. Although you might not get a semi-instant gratification from the order of your pedal, you will have the guarantee that its a fresh build, tested and ready to rock.
Another interesting note about Midnight Amplification's website that shows us Nic is a busy builder is the news tab. Builders have a lot on their plate and getting around to keeping  their fans updated on current events often takes a back seat to more (conceivably) important things like – making new circuits and filling orders. But, Nic and his crew have found a system (through Instagram) to keep the posts rolling out in concert with what's going on in the shop. Just yesterday we saw posts showing the case and gut shots of a new Super Chorus and a Derange Master. Which brings me to the best part of Midnight Amplification – the pedals.
Head over to the products tab and you'll find over 20 pedals to feast your eyes and ears on. Pedals like the Big Riff provide you with a familiar aesthetic and tone with it's "dual Op-Amp circuit that has been revised multiple times to bring you….[a] wall of fuzz", much akin to Corgan's tone on the Siamese Dream album. Nic's Moon Funeral is a little more obscure in its tonal attempts as he describes, "The Moon Funeral is a tribute to a band that has had a rather profound impact on my life; Cloakroom. This pedal is an attempt to capture the heavy fuzz tone that both Doyle and Bobby bring to their songs. A switchable boost adds 25dB on top of the already crushing fuzz on tap, for when you need it just a 'little' louder." It's this varied well of inspiration that has led to a broad pallet of tones among the MAD pedal line.
Adding to this lineup is the Mynd Driver – one of the latest pedals to come out of the shop. The way Nic describes it, the Mynd Driver is:
A two stage overdrive with almost too many possibilities to count! The Mynd Driver's first stage allows the user to choose between boost or drive settings, running into the second stage which has impedance switching, tone, gain and volume controls. Both stages can also be run independently for ultimate functionality. From light drive to distortion, this circuit has most genres covered.The patented midnight drive system, now available with extra 'mynd'…
Although the options for tone control are limitless, actually dialing in those sounds seem simple and straight forward. Another win for MAD.
Right now we are working at getting all of Nic's pedals into the database, so if you own some of MAD's wares make sure you leave some reviews over at Pedal Finder. In the meantime, make sure you like Midnight Amplification Devices on Instagram. Like I said, he posts a lot of gear shots and really lets folks know what's going on. You'll love having him in your feed!