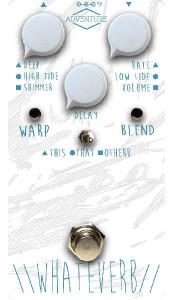 On December 1, 2015 Christian Terjesen of Adventure Audio began a Kickstarter campaign for the Whateverb – a reverb pedal "capable of a wash so thick it could bathe everyone in the world twice over." On December 3, 2015 Christian wrote an update that simply said, "Jeeze Louise, We're Funded!" By the end of the campaign he had raised a little over $8,000 and headed off to turn his 14 months of research and development into real effects pedals. This month, the first of the Whateverbs are projected to leave the nest and head into the arms of those who believed (and contributed) to Christian's whimsy. It's a beautiful thing when a plan comes together.
Originally starting out in Philadelphia in 2013 Adventure Audio picked up shop and moved to Rochester, NY in 2016. His line of pedals includes the aforementioned Whateverb, the Fuzz Peaks (a spin on the classic Black Russian Big Muff circuit previously discontinued by Electro-Harmonix and the Glacial Zenith (a Medium overdrive distortion with an isolated boost that allows you to toggle the order of the effects). Can I just take a minute and say that this whole toggle which effect comes first on dual effects pedals should be a new standard – at least where it makes sense? Genius.
When he's not coming up with new circuits Christian hangs around Wicked Squid Studios operating as their tech -fixing that which breaks and tweaking those things that need tweaking. With a masters in electrical engineering and audio DSP in the works and a life surrounded by sound, musicians and electronics, it's safe to say that Adventure Audio is a builder to keep an eye on.  You can keep tabs on them via their Instagram or Facebook accounts or visit their website to learn more about their products. If you have something of theirs on your board, we sure would appreciate it if you left a review at Pedal Finder.
Here's a demo of the Fuzz Peaks: