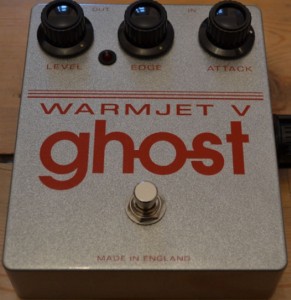 When a builder posts on Facebook about a pedal they built at one time and mention, "This is a bit annoying, double the price that I sold them for originally" it really makes you stop and take a closer look. I'm no savoy market investor, but you don't have to be a financial genius to understand that when something doubles in price – it has value. And when that thing is an effects pedal in a large and diverse market – it means something. This was the comment made by Ian Sherwen of Ghost Effects Pedals about his Hornby Skewes Treble Booster clone -a pedal that goes a long way to bringing your tone in sync with the likes of Deep Purple, the Yardbirds and other bands of their ilk.
Ghost Effects Pedals, out of Birmingham UK, is a builder focusing heavily on Fuzz and Booster effects pedals. Since 2004, the owner/builder, Ian has been hand-wiring clones of rare circuits from the 1960's and 1970's as well as spinning new sounds from old ideas. He started selling unlabeled, classic versions of pedals on Ebay, but as he got better at his craft, he decided to attach his own label and name to the product. Ghost Effects Pedals was born.
Taking a quick look at the Ghost Effects Website, you'll find a line-up of 7 pedals culminating from years of experience on what musicians are looking for in both tone, durability and looks. On his site you'll find:
Lunar Incantation: Mossrite Fuzzrite clone with the addition of a 'Tone' control similar to the one on the Rosac Nu-Fuzz.
Warmjet V: Based on the very rare WEM Project V fuzz pedal as used by Brian Eno on 'Here come the Warm Jets' and other recordings.
Silicon Pep Box: A version of the WEM Rush Pep Box which was manufactured during 1966-1967.
Aston Community Center Treblebooster: Based on the classic Rangemaster circuit, the name is a nod to a famous Birmingham guitarist who allegedly used a modified Rangemaster in his early years of playing. (For those who are as un-informed as me, I believe this is a tribute to Tony Iommi of Black Sabbath – which is awesome)
Dizzy Tone: Based on the Italian Elka Dizzy Tone fuzz, a very similar circuit to the Burns Buzzaround but with a little more aggression.
The Horn Treblebooster: Based on the John Hornby Skewes Treblebooster.
Buzzaround: Based on the classic and rare Burns Buzzaround fuzz pedal as used by Robert Fripp.
Looking at the choices he's made in what pedals he chooses to clone it's clear to see that Ian has a deep affinity for his home country. And why not, the UK has a trove of great tones to delve into from nearly every decade that music has been in existence. Which can only mean he has a lot more in store for us in the future. Keep in contact with what's going on Ian and his clones by following him on Instagram or liking him on Facebook. Check out his website for more in-depth information about the boxes he has created.
And, if you have one of these kicking around your board – do not count to 5 (3 sir)- leave a review at Pedal Finder. Stat.
Here's a demo of the Lunar Incantation – enjoy.