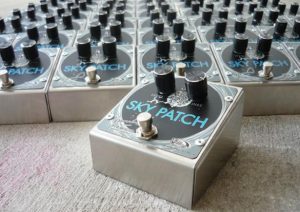 This last week, if you thought about Minnesota musicians your brain was immediately routed to Prince. Since his passing, Minnesota is a constantly trending topic on Facebook as stories and history of both his career and the places he made famous (1st Ave anyone?) drip into the media in an almost IV like rate. And although Prince may be the 'king' of Minnesota musicianship, he's not the only person churning out a history of note. Take Bob Mould for instance.
In 1979, Bob Mould and Husker Du (comprised of Mould, Grant Hart, Greg Norton and Keyboardist Charlie Pine) started out playing as Buddy and the Returnables. In the beginning, the band's repertoire consisted of little more than cover songs, classic rock and and a slew of Ramones tunes. But, as time progressed they turned to writing original music, ditching Charlie and turning their creative forces into a new brand of hardcore (melodic) punk. As time wore on they continued to carve out a significant following throughout the 80's as they defined their own brand of music in the college scene and beyond, becoming a staple of the decade.
Although Husker Du has since split up, with members going their own way, Bob Mould has remained busy. He is currently in the midst of promoting a new solo album titled Patch of Sky. Somehow while recording this new album and preparing for the tour he managed to find the time to work with Australia's Tym Guitars on the creation of a limited-edition pedal, the Sky Patch.
Based on the early 80s MXR Distortion+ – which Mould considers to be "the best distortion pedal ever" – the Sky Patch features the original LM741CN IC pushing a pair of silicon diodes for "warm but crisp clipping", and offers more volume than the originals. Each pedal in the limited run features level and distortion controls, true bypass switching, 9V power supply operation and a bright blue LED. Mould and Tim Brennan, owner of Tym Guitars, first met in Brisbane, Australia in 2013, where Brennan offered up a Tymexar St Paul Distortion pedal, which quickly replaced Mould's Distortion+ during sessions for 2014's Beauty & Ruin album.
The limited-edition Tym Sky Patch Bob Mould distortion pedal is available now – in a t-shirt bundle, no less – for $250 from Bob Mould's official store.
If you have anything to say about this pedal – tell us over at Pedal Finder, we'd love to hear. Also, make sure you check out Tym's Guitars – they are awesome! And, if you want to hear some of Mr. Mould's signature distortion sound, check out this song: