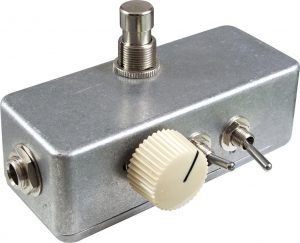 We live in a time of fortune where effects pedals are plenty and choices are abundant. Not only do we have a nearly unlimited choice of pre-built stomp boxes, but there are hundreds of builders who are willing to do custom work for pay – building you a clone of your favorite circuit, modifying your favorite pedal to make it your more-favortier pedal or even taking your crazy idea and morphing it into your new best thing. But, for those who may not have the cash to sink into prototypes you can always dive into the build process yourself and learn the tricks of the trade. If this is something your interested in then you'll want to visit MOD Kits DIY.
MOD Kits DIY has a huge array of builds all set to go -whatever you want – they probably have it or something very similar ready to build. The latest addition to their inventory of effects is the Step Ladder Kit.
The Step Ladder kit is a passive input attenuator using high quality components for excellent reliability. True-bypass mode provides the maximum signal level. The attenuator pot and two toggle switches allow for flexibility in the amount of signal attenuation when not in bypass mode. Treble bleed capacitors in the circuit allow you to retain crisp high frequencies even at maximum attenuation.
The Step Ladder is ideal for anything from getting a slight boost while playing single- note acoustic guitar leads or for jumping from clean to overdrive in a high-gain electric guitar amp. Its compact size (3 3⁄4" x 1 1⁄2" x 1 1⁄4" enclosure) fits in most guitar cases and battery-free operation means it'll be ready to go whenever you need it.
MODTM Kits and Assemblies are designed to give novice and experienced musicians the opportunity to build or modify their own amps, effects pedals and guitars. All kits come with easy-to-follow instructions and use point-to-point wiring. All effect pedals and amplifiers come with a pre-drilled enclosure and all necessary parts are included. All you need to provide are hand tools, a soldering iron and solder. Most effect pedals operate on a 9V battery; for a longer lasting option, a 9-volt adapter can be purchased separately.
So make sure to check out MOD Kit DIY at their website or follow them on Facebook to keep abreast of all their latest build possibilities.