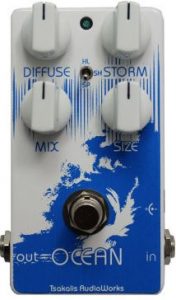 Tsakalis AudioWorks is a boutique pedal effects company based out of the amazing Athens, Greece. According to their website their goal is to make every guitar & bass player happy by offering 100 percent hand-crafted and handwired effects using high level principles. These high level principles include "Old School" Tube Amp Style Hand Wiring (TASHW), superior selected components and a passion for music and electronics. Blended it all together and they promise a "Powerful Tone & Supernatural Feel" with all of their effects.
Previously the Tsakalis lineup included 9 pedals like the Crown (a British style overdrive that can mimic the whole British school of amps like the Plexi , AC, Hiwatt and JCM), the G Spot (2 Channel All Tube Distortion/Overdrive pedal.) or the Zipper ( a distinct optical compressor with big headroom). Their latest release is the Ocean: a studio-quality reverb pedal with enough function and utility to deserve a seat at the table.
The Ocean comes with three modes: hall, which spans different room sizes; shimmer, for pads and "symphonic" overtones; and spring, for classic surf and splash. Each type is adjusted via mix, size, diffuse and storm controls, the latter of which adjusts specific parameters for each mode. There's also true bypass switching, 9V power supply operation and the ability to engage a 100% wet signal.
Let us know if you ordered the Ocean or have any other Tsakalis pedals in your line. If you do, leave a review! Also, don't forget to check them out on FB here and we'll be putting all their pedals over at Pedal Finder.
Finally, here's a demo of the Ocean: