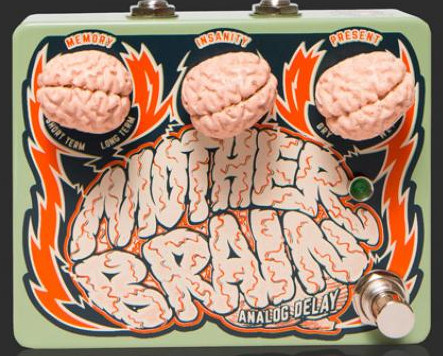 Remember when Delays and Reverbs were all the rage? Oh wait, they still are! That must be why we keep seeing various iterations of both spilling out into the market on a daily basis. The previous statement just nearly meets the definition of hyperbole as new effects come into the market on a daily basis. One the major hurdles for new and old builders alike is to distinguish themselves from the pack. There are two basic ways to do this. Create fantastic effects based on the 5 main sound groups that people just can't live without or create something so unique that people can't resist putting it on their board. The first option could be considered the long game. Notoriety based on quality and reliability is slow to build compared to some avenues of advertisement, but more longstanding. Uniqueness brings you a tidal wave of instant gratification online, but musicians hearts are fickle and like Kasem's Top Ten – what's currently all the rage changes on a weekly basis.
One company who has decided to build their public persona from both angles is Dr. No. It's safe to say that tangled up in their brand you find consistent quality, original ideas and uniqueness in every idea that springs forth from their bunker of electronic wonders. Case in point is the new Motherbrain limited edition delay pedal recently being bandied about online. According to their website, the Motherbrain is "an insanely high-end quality delay that produces classic, classy tones. With three easy-to-adjust functions, it's easy to achieve rockabilly slapback or insane oscillation—just grab hold of a cerebrum, dial in, and you're ready to go." An effect pedal perfect bass players, keyboards, vocal as well as guitarists.
The Motherbrain has three knobs – ensuring a quick learning curve for even beginner players. Present runs your signal from "Wet" to "Dry." Insanity sets your delay time and the memory dial locks in your feedback for "Long Term" or "Short Term." When the MotherBrain is engaged, it has no influence on the actual send through signal, that stays at the same level and clarity as your original signal. To achieve maximum results, Dr. No suggests using as the last effect in your pedal chain. Oh, it's analog.
As with all Dr. No pedals the entire package from the circuit to the silkscreened housing, custom brain knobs, box, and brain keychain, is entirely handmade and built to last a lifetime. It's also a limited edition: only 350 are available, each one signed and numbered by Dr. No. So let us know if you get to play this pedal and leave a review at Pedal Finder if you do!